4 Tech Trends That Could Transform Government Service Delivery in 2023 — and Beyond
If the last few years have been all about the cloud, AI, and the edge, 2023 is about advancing these technologies and related emerging tools. The purpose of this advancement is to accelerate digital transformation in nearly every sector, including government.
Several technological advancements could reshape government service delivery soon. These technological advancements include quantum computing, exponential intelligence, digital immune systems, and adaptive artificial intelligence (AI). The following includes more details about these technologies and their benefits:
1. Quantum Computing
You can think of quantum computing as the next evolution of the supercomputer. Quantum computers leverage the principles of quantum physics to help organizations quickly solve complex computational problems. It allows organizations to make better sense of both structured and unstructured data and unearth richer insights from these sources. It can also power IoT applications, sensors and cloud-based solutions that government agencies use in areas, such as transportation, emergency response, and digital equity.
For example, quantum computing can help federal, state and local departments of transportation (DOTs) map out and create more efficient transit networks to ease congestion. The technology can help public health experts with simulation and modeling during public health crises, so jurisdictions can deploy their medical resources more effectively and proactively inform the public about potential disease spread.
Quantum computers also can play a role in expanding broadband and 5G access. Quantum technologies can help telecom providers deliver next-generation wireless networks with even lower latency, faster speeds, and more powerful real-time data processing capabilities. As we've learned over the last two years, advanced network connectivity is critical to facilitate hybrid learning, remote work and to support the digital applications that drive real-time communications and modern constituent service delivery. With quantum computing, agencies can advance digital equity in their communities and better harness technology to accelerate their transition to digital government.
2. Exponential Intelligence
Exponential intelligence is a discipline that brings together analytics, big data, artificial intelligence, IoT, and machine learning to interpret data in human-like fashion.
Exponential intelligence essentially allows machines to look at diverse, disparate data sets in an environment and create context around them to uncover meaningful patterns within this information. Artificial intelligence already offers these capabilities, but exponential intelligence will expand on them in a more profound way that largely closes the gap between human and machine.
To be clear, this doesn't mean machines will replace humans. Instead, they will be even more useful in supporting employees' work and addressing the most pressing challenges governments face today. In the public sector, we could see exponential intelligence applied in a myriad ways, including in call centers to better understand constituents' emotions in real-time and provide more personalized service, or to deploy next-generation AI that facilitates a more intuitive, self-service application process for building permits and public benefits.
3. Digital Immune Systems
Similar to the human immune system, a digital immune system is all about strengthening protection and improving the defenses of a particular object, asset or entity.
Digital immune systems combine several software technologies and engineering strategies to enhance the user experience and strengthen operational resilience. These systems focus on practices such as observability to improve IT visibility; AI-driven continuous testing to automate the software testing process and strengthen the security posture of applications, and site reliability engineering (SRE) to automate a range of IT infrastructure management activities, such as application monitoring and system maintenance.
Digital immune systems are all about driving a better customer experience, or in the case of government, a better constituent experience. However, as a byproduct of this effort, agencies ultimately boost their IT resilience — a vital capability for any  organization that operates in today's unyielding threat environment.
4. Adaptive AI
Adaptive AI allows organizations to make changes to AI models using real-time feedback and new data after they deploy AI-enabled solutions.
Or as Gartner defines it, "Adaptive artificial intelligence (AI), unlike traditional AI systems, can revise its own code to adjust for real-world changes that weren't known or foreseen when the code was first written."
This means AI-driven applications and systems can respond in more nimble fashion to shifts in an organization's IT environment and effectively reduce potential disruptions that would compromise the performance of AI applications. In government, this could prove invaluable — whether adaptive capabilities increase an agency's agility and responsiveness during a surge in service demand or allows the organization to improve incident response in real time during an attempted data breach.
Gartner estimates organizations that adopt adaptive AI design and development practices will outperform their peers by 25% related to the number and time it takes to operationalize AI models. With adaptive AI, we could see more widespread use of AI in government rather than the siloed approaches that are common today.
Preparing for What's Next in Tech
From adaptive AI to exponential intelligence and quantum computing, all of these innovations depend on organizations getting more control over their data ecosystem.
This is why agencies need to assess their current IT estate and take steps to better connect and secure data throughout their environment. API-led integration, supported by a modern API integration platform, can help agencies deploy APIs and microservices faster, cultivate a more connected enterprise, and create a single source of truth for organizational data. This technology-enabled approach also can help agencies increase their data visibility and maximize all the rich information sources that already exist in their environment — whether it's locked in legacy systems or dispersed across custom-built digital applications.
As agencies look ahead to 2023, they can lay the groundwork now to capitalize on these emerging tech trends. Fortunately, this won't require another significant IT investment upfront. Rather, this effort should begin and end with an asset agencies already have at their disposal: their very own data.
Want to keep up with all things Software AG Government Solutions?
Share your email address below.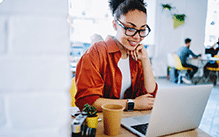 View our upcoming events and on-demand webinars