Benefits of IT Portfolio Management in Government
IT is so deeply rooted in day-to-day life that it's no surprise how challenging it can be for large government agencies to manage their IT portfolios. We have IT applications and systems for everything, and too often, they're working on their own without linking up with other systems in a beneficial way.
The right IT portfolio management software can change this, offering huge benefits for government agencies (as these case studies show).
What Is IT Portfolio Management?
IT portfolio management is designed to ensure IT requirements line up with mission requirements. Often this equation gets flipped, meaning IT infrastructure dictates mission goals, and this inhibits an agency's ability to act efficiently.
Through IT portfolio management, agencies are better able to systematically manage their investments, projects, and activities relating to enterprise IT. This brings numerous benefits and allows government agencies to act with the nimbleness of businesses while still complying with mandated requirements.
6 Benefits of IT Portfolio Management
Many government agencies run off legacy systems. These applications were created 20+ years ago and were designed in silos. As these applications have had to grow in complexity, they've done so from those siloes, collecting more and more data, with little prospect of integrating with each other.
This is where IT portfolio management software can pull siloed applications into one space to maximize the benefits of each system.
1. Align Spending with Mission Strategy
When you have many siloed applications and systems, there's bound to be a lot of overlap. It's difficult to know exactly what each application is responsible for and how it contributes towards mission strategy.
Each has its own data points, but you need to be able to bring all that data together in a coherent way to make sense of the best ways to invest your budget. One of the key benefits of IT portfolio management is the high-level insights it can offer to help you align spending with mission strategy.
With one single tool for managing application portfolios, project portfolios, technology portfolios, and enterprise architecture, it's much easier to align spending with mission strategy.
2. Ensure a Data-Driven Approach
Data collection has exploded. In the internet of things, everything revolves around data and legacy applications just weren't built with this in mind. Sure, they've adapted to meet the needs of today, but the fact that they remain siloed means they're not optimized to bring different sets of data together in a way that offers maximum insights.
To make the most of the data you're collecting and turn it into something valuable, it has to come together in an easy-to-access way that engages key stakeholders. This allows government agencies to follow a data-driven approach to decision making, reducing risk, and making the most of budgets.
3. See How Portfolios and Data Points Interrelate
Many applications were built in siloes, so they evolved in siloes. Although two applications might have developed similar capabilities, they weren't able to talk to each other or unify their functions.
Over time, these applications have become essential to mission strategy, but the documentation and data describing them continue to age.
This makes them prime targets for modernization, but dwindling resources mean this isn't always possible. Government portfolio management allows agencies to see how these applications and data points interrelate so they can manage their resources in the most efficient way while also lowering IT costs.
4. Provide Visibility and Accountability
Government IT portfolios are shaped by many different policies, and these are designed to provide visibility and accountability. Mandates such as FEAF and the Technology Business Management Methodology are designed to bring in a consistent approach to cost management.
To create this kind of visibility and accountability, it's vital that different systems and applications are brought together in one place. It's not feasible to be pulling data from lots of different places if agencies are going to follow these mandates while still being able to make decisions quickly.
Executives and portfolio managers need to make sure their data is in a consistent format that's easily accessible, and the right IT portfolio management software is needed to facilitate this.
5. Improve Change Management
Change doesn't just happen. It's got to be carefully planned and managed.
To measure the effectiveness of your strategies, you have to pull in lots of different data sets and keep your eyes on many different processes. When different stakeholders are working from different applications, it's almost impossible to follow through with change management.
Software like Software AG's Alfabet makes it easy to generate views of your IT landscape for any timeframe, making it ideal for future state planning and change management.
You need to have an overall picture of what's going on, and the best way to do this is to bring everything together in one place.
6. Fast Startup
IT portfolio management is there to make things less complicated, not more complicated. To achieve this, it's got to offer a fast setup and make an immediate difference to the way your agency operates.
This is why Software AG has a "Prove IT First and Prove IT Fast" approach. It's designed to be low-risk and get to action fast. It can quickly populate IT information, generating dashboards and reports for clear visualizations, fast decisions, and targeted action.
You don't have to wait around to see the benefits of IT portfolio management, they should start to become obvious almost immediately.
Alfabet: Simplifying IT Portfolio Management
Good strategic decisions require high levels of cohesion. IT systems traditionally don't offer this. You have different people operating different systems, using different data sets, and rarely collaborating.
Siloed systems aren't working together, and that's why IT portfolio management is so important. In an age where accountability and cost management are crucial, government agencies need to be able to see the big picture, and Alfabet can help them do this.
Software AG Government Solutions can help you get set up with our top-rated software so you can start to reap the benefits of high level IT portfolio management almost immediately.
Want to keep up with all things Software AG Government Solutions?
Share your email address below.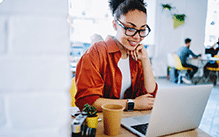 View our upcoming events and on-demand webinars