Cloud Alliances Drive Software AG Government Solutions' Built-for-Government Approach
Through critical partnerships with today's leading cloud providers, Software AG Government Solutions is advancing its "built for government" approach to better help agencies meet their critical mission requirements.
We recently sat down with Teresa Letlow, SVP Alliances Global Alliances – Cloud at Software AG, who shared her insights into the value of creating and leveraging cloud alliances for government.
Q: Tell us about Software AG's overall approach to creating cloud alliances.
Teresa: When you look at the history of partnerships and alliances among software companies, it's clear that having supportive partners and alliances is really important, especially in the integration space. We help customers integrate their most critical business systems and we want them to succeed. Working with the right partners is central to that.
Customers have big visions and they're looking for a comprehensive strategy that can help them achieve specific outcomes around revenue, product innovation and relevancy. Our customers need to know that we've got the right certifications, gone through extensive security protocols and that our products will reduce their risk when integrating with others in their technology stack. We choose partners that want to work with us across product, go-to-market and collaborative selling.
When it comes to enhancing the customer experience, developing superior products, or speeding up time-to-market, relying on just one team, technology, or process is usually not enough. You need a comprehensive, cross-functional, collaborative approach to achieve these goals.
As cloud-native technologies keep evolving, more and more people are shifting to the cloud. And it's no wonder why – it offers cost-saving benefits, improved speed, and other advantages. Software AG understands this and the importance of finding the right cloud alliances to ensure customer success.
Our approach to partnering with the cloud alliances is based on what our customers are telling us is most critical for them. That includes AWS, Azure, and GCP.
Q: How do these cloud alliances support Software AG's overall ability to meet customer needs?
Teresa: As I mentioned before, it's really important to highlight that customers rely on multiple technologies, people, and processes to bring their vision to life. And that's where cloud alliances come in to support that framework.
These alliances also boost Software AG's credibility. By showing that we've invested in moving to the cloud and following all the best practices, we instill confidence in our customers. We've got certifications, we've taken part in relevant programs, and we've put our software through serious technical reviews.
Teaming up with cloud alliances also fosters collaboration among the combined sales teams. It's not just about the software anymore; it's about comprehensive solutions. By working closely with our cloud alliance teams, which include solution engineers, solution architects, product experts, and industry specialists, we make sure we've established a solid foundation of experts to address customer demand.
This collaborative alliance allows us to provide all-around support to customers and empowers them to succeed with their solutions. We know that going at it alone isn't the best approach, so we rely on this collective effort to deliver exceptional outcomes for our customers.
Q: Tell us how cloud alliances support Software AG Government Solutions' "built for government" approach?
Teresa: Government agencies have their own unique set of requirements that set them apart from typical commercial customers, like those in retail or manufacturing.
When it comes to serving government clients, factors like security and procurement become extremely important. Working with the government means approaching things differently and considering various specific angles in this sector.
In the realm of government ecosystems, it's common to see certain aspects of cloud alliance infrastructure differ from their commercial counterparts. For example, commercial users might be using a different version of a cloud platform than the current version available for government infrastructure. Software AG knows how important it is to ensure that products built for the government meet those unique requirements.
To tackle these nuances, Software AG gives high priority to complying with industry standards like FedRAMP and working closely with AWS GovCloud. These partnerships allow us to tap into a wealth of knowledge and insights.
Collaborating with strong cloud alliance partners is vital for success in the government software space because it provides the necessary credibility, security, and procurement expertise. These aspects are significantly different from the commercial sector, underscoring the critical role of alliance support.
Overall, the software industry that serves government agencies recognizes the importance of alliances in meeting the unique demands of this sector. Without strong alliances to rely on, establishing credibility, ensuring security, and navigating procurement challenges would present significant hurdles.
Q: Give us some examples of cloud alliances in action for government.
Teresa: Right now, we're diving into a major initiative with government agencies that revolves around accessing and managing their data. The project is about pulling different types of data from different areas and aggregating it in a way that can be used to speed up decisions across multiple areas.
Accessing and understanding where the data is, how to integrate into a larger platform and then how to secure it for access by others is crucial. You can imagine that a government's data can sometimes impact national security. That's where our collaboration with cloud alliances comes into play. That said, it's important to note that these projects go beyond just Software AG teaming up with a cloud provider. These types of projects involve multiple technologies and partners and are always developed working hand-in-hand with a systems integrator, which really strengthens our approach to finding a solution.
This ongoing project is a big undertaking, and it's only going to keep growing as more agencies want access to more and more data. Imagine the potential…data from space, data from the field and data from operations all coming together to inform government agencies how to improve their efficiency or make decisions faster. It really showcases how the cloud can revolutionize government operations in ways that used to seem impossible.
Being able to foster communication and collaboration among different agencies, all thanks to partnerships with cloud alliances and systems integrators, has sped up progress in a major way.
Having cloud alliances involved in government endeavors goes a long way in reducing risks and ensuring project success.
Q: How does this support expansion into the Systems Integrator (SI) community?
Teresa: As I mentioned earlier, systems integrators really play a pivotal role in building comprehensive solutions for customers. While our software fits into the overall solution, it is the systems integrators who really take a holistic view of the customer's objectives.
They construct the larger solution, incorporating our software as a crucial component. Throughout the implementation process, Software AG's broad range of integration technologies, encompassing process, device, data, and application integration, proves invaluable.
Systems integrators leverage the comprehensive suite of Software AG products, identifying opportunities to enhance usage and maximize its potential. They can tap into various components and features to expand the customer's adoption and ensure they fully leverage our solutions.
Moreover, systems integrators act as the "boots on the ground," serving as the customers' point of contact during implementation. If any issues arise, they provide valuable feedback, facilitating a continuous improvement loop for our products.
This feedback loop allows us to refine our offerings and meet customer expectations effectively. Systems integrators play a crucial role in bridging the gap between customer needs and the capabilities of our product suite. Their expertise and involvement ensure a successful project outcome and customer satisfaction.
Q: What is the overall future vision for Software AG's cloud alliance program?
Teresa: The Software AG Government Solutions team has been diligently focused on paving the way for the future of government agencies. We recognize that the marketplace holds great potential, especially for government agencies seeking efficient allocation and utilization of funds.
To this end, our team is actively exploring how cloud alliances can further support our customers in procuring the right solutions for the government community.
By leveraging cloud alliances, we aim to empower government agencies to access marketplaces with ease. This enables them to procure products confidently, knowing that they are secure and trusted. We have cultivated competencies that instill trust in our offerings. As a result, we anticipate significant growth in Software AG's presence within the marketplace arena in the coming year.
Our commitment to supporting government agencies in navigating marketplaces aligns with our dedication to providing tailored solutions that meet their unique requirements. By capitalizing on the expertise and partnerships offered by cloud alliances, we can facilitate a seamless procurement process for government customers, ensuring their needs are met efficiently and securely.
Stay tuned for more exciting developments, as we continue to expand our marketplace offerings, delivering value and innovation to the government sector.
We would like to thank Teresa for sharing her insights with us. To learn more about Software AG Government Solution's "built for government" offering, please click here.
Want to keep up with all things Software AG Government Solutions?
Share your email address below.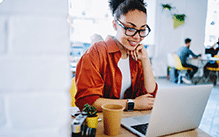 View our upcoming events and on-demand webinars