The Top Three Reasons to Consider a Government Data Integration Hub
In August of 2020, WashingtonExec senior reporter, Amanda Ziadeh, sat down with Tod Weber, CEO of Software AG Government Solutions, to discuss their real-time Government Integration Hub and how it is being used across federal, state, and local government to support emergency responses. We've rounded up the top three reasons why your agency or organization should consider implementing Software AG Government Solutions' Government Integration Hub below.
1) It is based on a global-leading platform
– The Government Integration Hub is based on Software AG's webMethods platform. webMethods is the proven leading integration platform for connecting vast numbers of disparate systems together and collecting data together in real-time. webMethods is used today by more than 85 federal agencies, including the DoD, IRS, and others, as well some of the largest state and local government agencies and top corporations in the world.
2) It can be used to address a variety of challenges, not just the COVID-19 pandemic
When the pandemic cases started rising in early 2020, a major challenge was the supply chain process and getting personal protective equipment (PPE) to the hospitals and healthcare personnel in a timely and accurate manner. This is where webMethods and the Government Integration Hub stepped in, acquired the necessary data needed from all the different systems that weren't connected together, and brought it together at massive scale. As COVID-19 contact tracing was implemented, challenges arose there as well. webMethods can be used to unlock the data needed for effective contact tracing, like driver's licenses, home addresses, health records, etc.
State and local governments are applying the technology to other situations, too, like tracking opioid crisis data and connecting integrated justice and first responder information. In Pennsylvania, the PA Justice Network executed an incredibly integrated set of systems that was used to track all kinds of data, especially healthcare data related to the opioid crisis where they can track outbreaks, retrieve an individual's past healthcare history, get access to healthcare records, and even track down "markers" on certain types of drugs that are currently abused. Santa Clara County, which is in the heart of Silicon Valley, is another user of the Government Integration Hub and webMethods platform – they connected their integrated justice and first responder information together in a seamless, efficient way.
3) It is available for use now
There's no need to wait – the Government Integration hub is up and currently running on Microsoft Azure, it's available for use for any government or commercial industry looking to address the global pandemic or any other emergency responses. And since the hub runs on Microsoft Azure Cloud, the startup is fast and simple.
The establishment of a real-time Government Integration Hub will have a profound impact on your government agency, organization, or corporation. Learn more about the hub and Software AG's webMethods platform at www.softwareaggov.com. To check out the full WashingtonExec interview, view here:
Want to keep up with all things Software AG Government Solutions?
Share your email address below.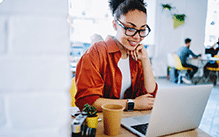 View our upcoming events and on-demand webinars