How Enterprise Architecture Management Is Improving Government IT
Like their free-market counterparts, the U.S. government is starting to think more about its processes and the tools that can help them streamline the processes and get more work done. But there are many challenges before government agencies and organizations that may have years of outdated thinking permeating just about every aspect of what they do. However, if the desire is right and sufficient buy-in is achieved, even government can get more out of its resources and processes, making for more efficient organizations for the people that they serve.
But those that really want to affect large-scale change know that change doesn't come easy. That's why the government need comprehensive enterprise architecture (EA) management to codify all the important aspects and to get the most out of their IT capabilities and needs. After all, the benefits of EA management is self-evident in the drastic transformations that can take place, but unless there's a focus on everything that needs to happen, it's too easy to fall into the bad workflows and habits that often limit capabilities and belabor the work to be done.
What Does Enterprise Architecture Management Mean for Government?
Generally, EA management is about better management of your IT capabilities and your IT spend. With a comprehensive framework for categorizing your expenditures and connecting that information to your IT landscape, EA management helps you prioritize what you're spending on IT services, as well as how you may be able to streamline your processes to do better work.
And once the understanding and accountability is in place, a common vocabulary surrounding the desired improvements can start to take shape. With all that increased focus, more discussions and other beneficial interactions can take place, all under the intent of improving efficiencies and getting the most out of the tech that powers your organization.
How Is Enterprise Architecture Management Different?
Rather than relying on outdated models that may have little to do with how you do business today, EA management provides a comprehensive set of approaches that acknowledges the modern age and the demands required of various departments and agencies. But instead of tailoring the organization to the plan, any comprehensive plan has to acknowledge where everything sits today, as well as what needs to be done in the adoption phase.
Any EA management solution must provide a clear roadmap from today into the future, with a clear indication of all the steps that must be taken in order to effect real change with a tangible impact on the use of resources and the bottom line. If, for example, a given organization lacks project management capabilities, the roadmap should address it. And beyond the clear needs, all new and existing pieces will need to be brought under this IT governance framework, ensuring that things don't slip back into the old ways of doing things.
How Can Governments Benefit From Enterprise Architecture Management?
Considering that most government agencies lack a traditional enterprise architecture office and may struggle to meet even the most basic IT needs, there's much more to do than to take the advice of an IT consultant and call it a day. Not only does the plan need to be tailored to the deficiencies and needs of the organization, but it also means acknowledging when there may not be sufficient resources or resources to effect change.
Not only are governments constantly under various budget crises, but there just may not be enough buy-in or funding to implement the plan, and that's where holistic EA management comes into play. Instead of stressing already overworked or nonexistent resources, it takes a special kind of partner to be able to see the plan through even in the face of friction and other challenges.
How Can Government Agencies Get Started?
Regardless of the agency, it's true that all agencies have unmet needs that can be addressed by EA management. Not only are there deficits in understanding that can be improved by EA solutions and tools, but even crucial system relationships and dependencies can be improved via enterprise architecture management.
Whether processes can be improved by running what-if scenarios and helping the agency prepare for the challenges they're likely to encounter in the future or the real need is in  standardization of their processes and policies, EA management can help lower IT costs while reducing IT complexity, enabling a greater understanding and an ability to work with the tools that help streamline the efforts of your organization.
If you're ready to take the plunge and get started on better understanding your IT capabilities and the effect that it all has in your organization, you're ready for EA management. Software AG Government Solutions is a leading provider of EA solutions, and we can help design a roadmap and approach that works for you. Contact us today to see how we can help.
Want to keep up with all things Software AG Government Solutions?
Share your email address below.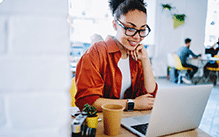 View our upcoming events and on-demand webinars