Forrester Wave API Management Software – Share Data Securely Across Systems
The ability to share information across the criminal justice system can be a matter of life and death.
If information is late, or incorrect, it could lead to the improper release of a dangerous prisoner. Or someone innocent could go to jail.
But sharing data across a tangle of courts, police departments and other government agencies is not simple. Each has its own system and few can talk to each other; leading to siloes of data that cannot be accessed by all parties. The manual processes required to access various systems waste time and money, while also increasing chances for error.
For example, what if a prison's system does not communicate effectively with a jail in the same state? If a person is transferred from the jail to prison and the prison does not know that her/she has a history of mental illness, the prisoner could go without necessary medications or treatment and become violent.
Without the ability to share and analyze data from each department and agency in the criminal justice process, practitioners cannot proactively identify critical trends and changes in the system as they emerge. The common denominator for each entity in the system is that they need access to data from across the entire system. That way they can make the most informed decisions at east stop of the process.
They need to adopt a platform that can greatly improve data visibility across the justice "enterprise," which allows agencies to share necessary information thus lowering threats to public safety.
They need a way to break out of their data silos, without having to completely reconfigure theirs systems. The best way to do this is with an integration platform that acts as an independent connector.
An integration platform provides:
Real-time monitoring and reporting
By incorporating data from all sources in the justice enterprise, an integration platform allows agencies to see a complete picture of data in order to make informed decisions.
Accessibility
An integration platform reduces manual tasks, duplicate entries and errors. It makes it much easier to track individuals and cases across organizations and to automate information exchange between agencies and systems.
Predictive analysis
A platform approach allows agencies to use statistical analysis techniques to detect variance in processes and recognize potential problems before they occur and when there is still time to prevent them from having a negative impact on the enterprise.
These capabilities allow each arm of the justice system to focus on its individual role while – at the same time – utilizing data from across the enterprise. An investigator solving a crime can be confident that he has a complete picture of all the data needed.
For the sake of public order – and public safety – information must be shared in a timely and transparent manner.
Want to keep up with all things Software AG Government Solutions?
Share your email address below.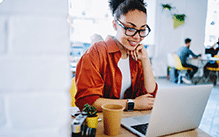 View our upcoming events and on-demand webinars