Three Ways State Agencies Can Avoid Data Integration Headaches
Now more than ever, data critical to taking care of citizens must be retrieved from multiple sources both within and outside of a given agency. Agency leaders need to put citizens at the center of their efforts, and that will require new approaches to integrating and sharing data.
As things stand, it's difficult for state IT leaders to organize information to meet individual needs. The average state has more than 20 agencies in place which determine eligibility for a variety of programs, and often, that data is stored in mainframes which use incompatible data formats.
To manage these systems effectively, state IT leaders of the future will need to offer new capabilities, including:
Delivering data to frontline staff in real time to inform their decision-making
Being capable of handling big data, as well as the increasing variety and complexity of data sets now available for analysis
Supporting the flexibility needed to respond to change rapidly
Connecting with legacy systems easily, including mainframes
Offering modular solutions that can include both on-premise and cloud deployments
Unfortunately, at present it can be difficult to bring together such data, as these systems are frequently isolated in silos, often in mainframes which aren't designed to communicate and exchange data with one another.
This problem has been made worse by CMS rules requiring that Medicaid Enterprise Systems permit the agencies to change business rules without affecting the core programming. To address this requirement, agencies often acquire single-function solutions from multiple vendors, which creates even more data silos.
However, there are better options. Here at Software AG Government Solutions, we've been helping government agencies solve problems like these efficiently, lowering costs and improving the delivery of services to citizens.
Here's three approaches we recommend that agencies use to avoid data integration headaches by linking multiple departments and agencies and present data effectively to users. These solutions improve the ability of agencies to exchange and integrate critical information among systems which wouldn't otherwise be compatible.
Our integration engine, webMethods, simplifies the task of bringing together data that wouldn't have otherwise been compatible. Using webMethods, developers can retrieve data effectively without having to dig into the deeper levels of multiple agency systems.
One option webMethods offers is B2B (trading network) integration, which provides out-of-the-box support for standard documents uses within the HHS IT ecosystem, including HL7. These capabilities allow states to modularize key functions within their critical systems while communicating smoothly with CMS.
Another tool available through webMethods providers adapter-based integration, which can connect two separate enterprise-scale applications which transfer information automatically. Software AG adapters make it possible for developers to make these point-to-point connections using drag-and-drop wizards, whether or not they know the details of how underlying systems such as Salesforce, Microsoft Dynamics or Oracle work.
Yet another option for data sharing is Software AG's Enterprise Service Bus, which allows users to publish and subscribe to information with various systems. This is particularly useful given the increasing modularity of various systems and the extent to which the data they hold is incompatible.
Connecting all systems via a shared information bus makes it much simpler and much easier to manage integrated IT infrastructures even as they grow and change. As agencies retire older applications, leaders can replace them with newer systems and plug the new applications into the bus, making the information they contain available immediately.
Taken together, these technologies give states the ability to retrieve and share data centered on citizens. While individual applications will continue to modularize and offer specialized functions, agencies will allow them to share and exchange data on whatever level is needed.
To learn about a solution which offers all of the tools needed to integrate legacy systems into today's modular world, download our guide, The Future of Health and Human Services: An Integrated Citizen-Centric Approach.
Want to keep up with all things Software AG Government Solutions?
Share your email address below.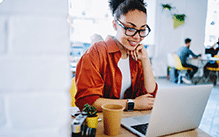 View our upcoming events and on-demand webinars