Three Ways an Integration Platform Can Improve Data Sharing in Public Safety
Data is a key strategic asset for many government agencies, but in public safety, timely access to critical information can save lives.
However, information sharing across the criminal justice system is still far too onerous. Many agencies rely on legacy systems that lack interoperability and are too difficult to reconfigure, leading to information silos that prevent police, fire, EMS and other public safety professionals from gaining complete visibility into relevant data across the criminal justice ecosystem.
To overcome these challenges, agencies need to adopt a robust information-sharing solution. A secure, cloud-based integration platform offers all the capabilities public safety agencies need to better harness their data — without the need for a costly and time-consuming overhaul of existing systems.
An integration platform, which acts as a connector between different agency systems, incorporates a range of interoperable information-sharing tools and capabilities. This platform allows your agency to make on-premise and cloud applications and databases interoperable using APIs, lets your organization integrate its content and re-use both structured and unstructured data in the development of business applications, and gives you the ability to process massive volumes of data from a variety of sources, including emerging technologies like IoT.
Here are three ways an integration platform can improve information sharing in public safety.
It Creates a Single Source of Truth
An integration platform offers robust integrations and brings together data from multiple sources and disparate systems into a unified data model, breaking longstanding information silos within public safety.
This creates consistency and a single source of truth across your organization, which offers benefits such as better situational awareness for first responders before they arrive on scene, more streamlined inter-agency collaboration (especially when an incident crosses jurisdictional boundaries), and the ability to more quickly and securely share information with partners across the criminal justice system.
With this single source of truth, your organization can improve incident response and enact various initiatives and business process improvements to better serve and protect the public.
It Leads to More Informed, Proactive Decision-Making
An integration platform allows your organization to advance its data maturity in several ways.
With a platform approach, your organization can create a solid foundation for your data that facilitates real-time reporting and monitoring and the use of predictive analytics, both of which can improve decision-making. For example, your agency can leverage these capabilities to develop targeted intervention programs to reduce recidivism, to decide where to deploy officers based on local crime trends, or to streamline evidence collection and analysis during investigations.
By using an integration platform, your organization can gain more visibility into its data and ensure the right people have easy access to the right information at the right time.
It Improves Automation, Accessibility and Operational Efficiency
Too much of the work public safety agencies do today is overly manual, paper-based and error-prone, whether it's incident reporting, logging citizen complaints, case management or other administrative processes.
An integration platform can make data more accessible and facilitate business process automation, reducing manual tasks, duplicate work and potential errors. With this connector, your agency can securely send and receive data from partners and other stakeholders and automate an array of business processes. One public safety in southern California, for example, has used an integration platform to transform its mainframe criminal justice information system into a more cost-effective and agile service-oriented architecture, creating a user-friendly system for the more than 11,000 law enforcement officers, adjudicators, investigators and analysts at over 80 agencies who rely on the technology.
Enhancing Data Management in Public Safety
Public safety agencies have access to so much valuable data, but legacy technology and regulatory concerns often prevent them from making full use of this information.
However, a secure, cloud-based integration platform can empower your organization to transform your data into insights that improve public safety — all while improving data governance, helping you better manage data sprawl and cultivate a data-sharing culture across your agency.
In public safety, every second counts. Rather than wasting valuable time mining through and trying to decipher your agency's data, an integration platform can put relevant information at the fingertips of those who need it most, providing an invaluable tool that helps to make life safer in the communities you serve.
Download this brief here to read how the state of Pennsylvania brought together dozens of different criminal justice agencies – and used smart technologies to drive even greater transformations and cost savings.
Want to keep up with all things Software AG Government Solutions?
Share your email address below.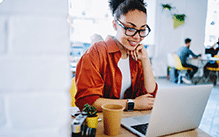 View our upcoming events and on-demand webinars