Three Reasons to Leverage a FedRAMP-Authorized Government Cloud
As government agencies shift to increase residence and agility, they also encounter a plethora of cyber threats. These threats, in turn, will compel them to employ a security-first cloud migration strategy. This is where the FedRAMP-authorized cloud provider comes into play.
FedRAMP stands for the Federal Risk and Authorization Management Program. This program possesses the gold standard for security in the government IT world. Its rigorous authorization process also offers a stamp of approval for organizations desiring innovation with very little risk.
Agencies should leverage a FedRAMP-Authorized Government Cloud for the following reasons:
Accelerated ATO Timeline
Every cloud provider partnering with a federal agency must have a FedRAMP Authorization to Operate (ATO). A cloud provider having a previously authorized FedRAMP certification may reduce ATO timelines. This makes it simpler for a separate agency to issue its own ATO and reuse a specific cloud product.
Enhanced Security
Another benefit of a FedRAMP-authorized cloud is security. Not only will FedRAMP's security baselines be met, but they will benefit in various ways, like streamlining compliance with privacy controls and security standards, such as NIST-800-53 security and privacy controls.
A FedRAMP-authorized cloud undergoes scans for common vulnerabilities and exposures (CVEs). A cloud provider also will automatically apply patches to close any security gaps in the environment. Additionally, FedRAMP-authorized cloud providers are required to file yearly audit reports conducted by a 3PAO, so agencies hosting their assets in the cloud will have added assurance the solutions continue to meet the highest security standards.
Reduced IT Management
Software AG Government Cloud has a host of benefits for agencies. There will be no need to host an environment from an auto-scaled, secure-scaled tenant deployment and more.
Certain clouds, like Software AG Government Cloud, allow agencies to have a single pane of glass view and access a dashboard to see what's happening in their environment in real-time. Additionally, a modern Kubernetes-based architecture allows them to benefit from containerization, which drives automated management, greater portability and flexibility.
As part of the FedRAMP hosting package, agencies that use the Software AG Government Cloud can take advantage of white glove service. With most SaaS solutions, organizations are given a URL and some documentation links and that is the extent of the support they receive. However, Software AG offers specialized support with all of its cloud services and products — including its IT portfolio management and business process transformation solutions, API developer portal and managed file transfer solution. This specialized support ranges from application management and administration to help with a migration and support with setting up Single Sign-On (SSO). These services aren't typical for most cloud providers, but they demonstrate the added value agencies can reap as part of their FedRAMP installation.
Driving Government Innovation and Stronger Security
Digital transformation is accelerating in government, but as agencies expand their digital capabilities, they will need to do so securely.
FedRAMP provides a secure framework for agencies to adopt cloud services and solutions, giving them confidence that the cloud providers they work with meet the most rigorous security requirements. Leveraging a FedRAMP-authorized Government Cloud allows agencies to benefit from enhanced security, increased IT visibility, a consistent, high-performing environment, faster deployments and reduced ATO timelines. With these advantages, agencies can effectively balance innovation with security to meet their mission objectives.
In Closing

For more information about leveraging with FedRAMP, contact Software AG Government Solutions today. Software AG Government Solutions is a growth-based software organization committed to serving the Aerospace and Defense sector with IT solutions and local, state, and federal governments of the US. You won't go wrong with them, so contact them today!
Learn more about Software AG Government Cloud here.
Want to keep up with all things Software AG Government Solutions?
Share your email address below.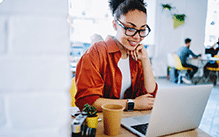 View our upcoming events and on-demand webinars