The Benefits of a FedRAMP-Authorized IT Transformation Tool and Why You Need One
With federal mandates around technology business management (TBM), FITARA, DODAF and other frameworks, it's now more important than ever for federal agencies to gain complete visibility and control over their enterprise architecture and application portfolios.
Better enterprise architecture management can reduce organizational risks and technology costs. It also fosters greater collaboration between the business and IT, drives better decision-making and accelerates modernization by aligning IT more closely to the agency's mission.
However, achieving these results requires your organization to take inventory of your IT assets and develop a robust application rationalization capability. Leveraging FedRAMP-authorized enterprise architecture management and IT planning and portfolio management solutions is the most effective way to build this capability..
Why You Need a FedRAMP-Authorized IT Transformation Tool
Adopting FedRAMP-authorized EA and IT planning and portfolio management tools are critical because they provide streamlined implementation, enhanced security, and speed time to value.
Streamlined Implementation
Several factors often slow down IT transformation, from a lengthy RFP process to a technology landscape filled with thousands of competing cloud providers. In this environment, it's difficult to assess the actual value your organization will get from a potential cloud offering.
FedRAMP authorization solves this problem because it creates a consistent security standard for cloud solutions. Currently, only 218 cloud service offerings are FedRAMP-authorized. Solutions that have undergone this full security assessment offer an advantage to your agency in terms of scalability and rapid deployment. For example, you can accelerate the adoption of federal frameworks by rapidly deploying a cloud solution with FedRAMP moderate authorization into a Azure Government Cloud P-ATO, which meets FedRAMP's highest accreditation standard.
Another benefit is that this security authorization allows the solution to be reused across federal agencies — in addition to the agency that initially sponsored the provider's authorization. This is a significant advantage for agencies or divisions that have data-sharing agreements, operate under a shared services model or who are just embarking on their transformation journey.
"The next agency can piggyback on all the work that was already done from that former authorization and this allows them to do a lot faster, which saves them time," says Chris Borneman, Chief Technology Officer for Software AG Government Solutions. "It also helps reduce overall costs. Following the same set of security standards that every agency can adhere to makes the whole process a lot easier."
Enhanced Security
A FedRAMP-authorized solution also offers peace of mind from a security perspective.
That's because a cloud solution that receives this authorization isn't just subject to a one-time security assessment — it must undergo continuous monitoring and auditing. A cloud provider that deploys its solutions in a single-tenant environment, integrates single-sign-on capabilities that incorporate PIV/CAC authentication, and provides end user support throughout the application lifecycle also can help you avoid forced upgrade timelines and the risks that come with multi-tenant deployments.
Speed Time to Value
The ability to rapidly implement and deploy a FedRAMP-authorized IT transformation tool also allows your organization to drive more value from this solution as quickly as possible.
Rationalizing your application portfolio requires your organization to define its requirements, establish good governance, and gather data more efficiently. An FedRAMP-authorized IT planning solution helps you establish a robust application rationalization capability by providing full transparency into your IT spend, a real-time, single pane of glass view of your IT and application ecosystem, a better understanding of the relationship and data sharing between these assets, and what business processes and capabilities these applications support. With these insights, your organization can make more informed decisions about your current and future technology investments. You also can reduce licensing costs and stop dedicating resources to applications that no longer serve your mission, which allows your organization to redeploy staff and financial resources to other mission-critical priorities.
Secure cloud solutions can improve enterprise architecture management, accelerate your organization's adoption of federal frameworks such as TBM, FITARA, FEAF, DODAF and better prepare you to meet the requirements of future federal mandates. Adopting FedRAMP-authorized EA and IT planning and portfolio management solutions can help you achieve all these aims and speed time to value, so your organization can securely and confidently drive innovation.
Software AG's Alfabet and ARIS products are the leading enterprise architecture and IT planning and portfolio management solutions on the market. For more information on how these tools can propel your IT transformation, visit here.
Want to keep up with all things Software AG Government Solutions?
Share your email address below.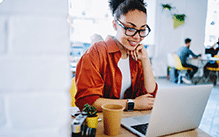 View our upcoming events and on-demand webinars