Defense Health Agency (DHA) Issues New Authority to Operate (ATO) to Software AG Government Solutions
Reston, VA, January 18, 2023  – Software AG Government Solutions announced today that its self-service Cumulocity IoT platform was granted a Defense Health Agency (DHA) Authority to Operate (ATO).
The ATO is based on compliance with strict security requirements and risk assessments outlined in the Risk Management Framework (RMF). It validates how the Cumulocity IoT platform can meet current and emerging needs for IoT data management from any sensor or device across the US Federal government.
"All federal agencies are poised to fully take advantage of IoT in ways that gain faster results for true mission enablement," said Hank Bailey, President and Chairman of the Board of Software AG Government Solutions. "This ATO demonstrates that our Cumulocity IoT platform is secure and scalable to meet the unique challenges required for the Department of Defense and other government agencies."
Originally used for Department of Defense (DoD) contact tracing during the COVID-19 pandemic, the Cumulocity IoT platform is device and use-case agnostic, connecting to the widest number of devices and gateways.
The Software AG solution automated the tracking of personnel-to-personnel exposure within defined proximities in controlled DoD environments with a highly secure, cloud-to-edge solution.
The Cumulocity IoT platform supports the capture, analysis, and visualization of data to comply with all government cyber, operational security, and PII/PHI protection requirements.
The ATO also opens up government to a wider-range of IoT data management capabilities and use cases such as:
Biometrics and Worker/Servicemember Health and Safety
In-Hospital and Remote Patient Monitoring
Predictive Maintenance and OEE for Machinery
Disaster Management and Response
Asset Tracking
Border Security
Managing and Controlling Facilities, Bases, and Installations
The Software AG Cumulocity IoT platform removes technical complexity from IoT service provision, providing organizations with the flexibility and agility to deliver IoT services to internal and external customers on-demand.
About Software AG Government Solutions
Software AG Government Solutions is a wholly owned subsidiary of Software AG USA, Inc. We are dedicated to serving the Public Sector, Higher Education, and Aerospace & Defense communities in the United States. Our world-class software products (webMethods, Alfabet, ARIS, Cumulocity, Adabas & Natural) are focused on reducing the complexity of IT ecosystems that have evolved over many years. We help our customers understand what IT they have, how to optimize their architecture, and execute on a fully integrated modern enterprise. We leverage a highly effective "Prove IT First and Prove IT Fast" approach to solving complex IT challenges. Widely embraced by our customers, this approach has been proven to minimize risks associated with IT investments. To learn more, please visit: https://www.softwareaggov.com/.
Want to keep up with all things Software AG Government Solutions?
Share your email address below.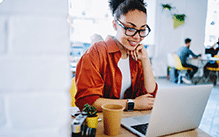 View our upcoming events and on-demand webinars