Software AG Government Solutions Expands FedRAMP-Approved Solutions Portfolio That Is Built for Government
Reston, VA, May 11, 2023 – Software AG Government Solutions today announced that its market-leading solutions for APIs, DataOps, and Process Mining have all achieved FedRAMP Moderate Authorization, which extends its "Built for Government" approach to solving mission critical challenges.
This builds upon its existing FedRAMP offerings for IT Portfolio Management and Process Modeling, along with the company's recent Defense Health Agency (DHA) Authority to Operate (ATO) for its IoT and Analytics platform. Software AG Government Solution's full suite of products has now been fully validated by government.
"Software AG Government Solutions has been a trusted partner to the government for decades," said Hank Bailey, President and Chairman of the Board of Software AG Government Solutions. "As such, we have consistently iterated our products over the years to keep up with agency demands, unique scalability and security requirements. This now includes making them available in a FedRAMP-certified environment."
The following solutions were added to FedRAMP Moderate Authorized Software AG Government Cloud:
A wide-range of government and industry customers are leveraging these FedRAMP designated offerings, including the Department of Education, Department of Energy, Department of State, Bureau of Engraving and Printing, and the Department of Housing and Urban Development.
"Starting with our initial Navy ERP program ATO, and progressing to the recent DHA ATO, we have consistently demonstrated that agencies can rely on our technologies," said Jeremy Rissi, Chief Strategy Officer at Software AG Government Solutions. "In addition, we offer a straightforward path to getting our innovations certified for our customers' operational and mission critical environments."
About Software AG Government Solutions
Software AG Government Solutions is a wholly owned subsidiary of Software AG USA, Inc. We are dedicated to serving the Public Sector, Higher Education, and Aerospace & Defense communities in the United States. Our world-class software products (webMethods, Alfabet, ARIS, Cumulocity, Adabas & Natural) are focused on reducing the complexity of IT ecosystems that have evolved over many years. We help our customers understand what IT they have, how to optimize their architecture, and execute on a fully integrated modern enterprise. We leverage a highly effective "Prove IT First and Prove IT Fast" approach to solving complex IT challenges. Widely embraced by our customers, this approach has been proven to minimize risks associated with IT investments. To learn more, please visit: https://www.softwareaggov.com/.
Want to keep up with all things Software AG Government Solutions?
Share your email address below.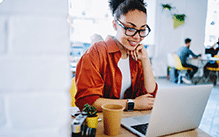 View our upcoming events and on-demand webinars