4 Ways Agencies Can Transform into Strategic Organizations
Whether it's digitizing constituent services or responding to federal technology management directives like OMB-Memorandum 22-18, government agencies must now reassess how they manage their IT landscape.
Legacy systems, data silos, and limited IT visibility can no longer characterize their approach to IT management. Instead, agencies must become much more strategic in their interactions, behaviors, and how they maintain their overall IT portfolio. Being strategic requires agencies to perfectly align their IT resources with clearly defined business goals and objectives to streamline the execution of their strategy. It requires purposeful processes and behaviors, intentional direction, and a proactive rather than reactive approach.
Here are four ways agencies can evolve into strategic organizations and remake their IT portfolio into an accelerant — rather than impediment — to transformation.
Set a strategic vision
Agency leaders must successfully shepherd their organizations from their current state to an ideal future state. To accomplish this, they must have a solid roadmap — and that begins with creating a strategic vision their organizations can rally around.
A strategic vision, outlined in a clear vision statement, sets forth goals that are either functionally-oriented, growth-oriented, satisfaction-oriented, or performance-oriented. It also explains the "why" behind the goal(s). This essentially answers the question: How does this change help us achieve our overall mission? Or "why this change?" and "why now?"
Establishing a strategic vision at the outset of any IT change is critical for every agency. Transformation is complex and multi-faceted. It also can be a long, seemingly never-ending process. However, with a clear and compelling strategic vision, agencies will have a North Star, or guiding principles, to frame every decision about how they manage their IT portfolio in service of their goals.
Establish a strategy network
Secondly, agencies must have a true strategy network.
Manual, siloed processes actually make being strategic much harder. Many agencies often rely on standalone PowerPoint presentations and documents to institutionalize their strategy. However, these things often aren't revisited or updated, so they quickly become useless and obsolete.
A strategy network has a vision statement that anchors it. It also includes objectives that align with the goals set forth in that vision statement, as well as key measurements to track improvements to underlying IT portfolios over time.
Whether your agency has a functionally or performance-oriented goal, every goal should include objectives, or measurable targets that specifically define what success looks like. For example, if your HHS department has a goal to strengthen equitable access to high-quality and affordable healthcare in 2023, your objective may be to increase the number of rural residents your healthcare programs serve by 10% year-over-year. Achieving these goals and objectives may require some IT system and process changes but having a strategy network in place provides a go-forward framework for your department to prioritize and measure your goals, make the most relevant changes, and optimize your IT resources as effectively as possible.
Measure performance
We've talked about the importance of measurement, but the question for most agencies is how to do it the right way.
As the saying goes, you can't manage what you don't measure, so implementing strategic IT portfolio management also requires agencies to develop strong mechanisms to monitor and assess performance.
This is where a rubric is so valuable. A rubric is a scoring guide organizations use to evaluate the performance of a product or project within their IT environment. It encompasses three key parts:
Criteria: Describes the measurable or observable elements of a product.
Rating scale: This can be on a scale of 1-5 or 1-10, a grading scale, or whatever makes the most sense to identify levels of performance.
Indicators: Provides concrete descriptors for each level of performance.
A rubric enables all the key stakeholders involved in managing your organization's IT portfolio to have a common understanding of how performance will be measured. This allows each stakeholder and their teams to focus their efforts in the same direction as they embrace new strategic behaviors. Developing this common understanding also makes it easier for your organization to adjust and make changes to its IT landscape to achieve its goals, because there's already agreed-upon criteria for what defines success.
Be disciplined
Discipline is a key tenant of strategic portfolio management.
Your agency likely has so many assets in your IT ecosystem, some of which are deemed high-value assets. Your organization must have a clearly defined process and governance structure for managing both access to and the lifecycle of these assets. This requires discipline not only to create these governance processes in the first place, but to abide by them as internal and external changes occur that affect how your agency manages its IT portfolio.
For some agencies, this may mean establishing a quarterly review to evaluate the performance of high-value assets, examine what changes have occurred, and then publishing a scorecard to communicate these changes with key stakeholders. For other agencies, this process may take place monthly.
The larger point here is that your agency will need to determine which operational cadence works best for you to improve change management, reduce your organization's risks, and strategically manage your IT estate.
Embracing Strategic Portfolio Management
Being strategic requires agencies to be intentional and methodical — and not make sweeping changes all at once.
The rapid pace of change and accelerated digital transformation in recent years may put the pressure on your agency to move just as quickly. However, your organization will make more meaningful and lasting changes if you take a carefully considered, step-by-step approach. Becoming strategic is a journey, not a destination with a defined end point. Embracing every step along the way will accelerate your organization's path to true IT transformation.
 Is your organization ready to implement strategic IT portfolio management? Find out how Alfabet, our comprehensive IT portfolio management solution, can support your strategy here.
Want to keep up with all things Software AG Government Solutions?
Share your email address below.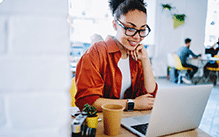 View our upcoming events and on-demand webinars