What to Expect from Government's Digital Transformation Strategy?
The last two decades were marked by a sweeping wave of digitization that has transformed almost every sector, some more rapidly than others but eventually touching every domain.
Smartphone usage, increasing internet access, and advanced digital tools and technologies have collectively shaped the way we shop, work, travel, eat, socialize, and even live. It's safe to say that the private sector, being at the forefront of development, has driven change in the right direction. Although the public sector has been slow in adopting technology, the ball has been set in motion and it's only a matter of time until full-scale digital transformation in government is seen.
But what is digital transformation exactly? It's the process of adopting and integrating digital technology in all business operations including delivery of products and services. Software AG Government Solutions explores what to expect from digital transformation in government over the next few years:
1. Faster Responses
The bureaucracy that runs rampant in governmental organizations across the world has been the bane of public services. With modern digitized processes and tools, one can expect faster response times. The ability to opt for a wide range of public services online, at the click of a button, and the turnaround time to process those requests will dramatically reduce. It will not only help improve organizational productivity but also lead to improved customer experiences that result in enhanced satisfaction.
2. Streamlined Processes
Digital transformation in government leads to not only speedier transactions but also streamlined processes with reduced redundancies. Agile processes and digital platforms help eliminate the unnecessary steps and bottlenecks that tend to cause delays. Simple and efficient processes reduce the red tape formalities that derail decision making to make way for faster decisions, improved efficiencies, and an enhanced overall performance.
3. Elimination of the Need for In-Person Trips
Given the pandemic-driven challenging times that we live in, several national, state, and local governments across the world are trying to meet public needs by offering a wide range of services online. While some have already adopted a high degree of technology to meet the public's needs, some have barely just begun. Regardless, it's no doubt a step in the right direction. It facilitates social distancing which is the need of the hour. But come to think of it, pandemic or no pandemic, the ability to avail of public services from the comfort of your home at the click of a button is an unparalleled advantage.
Want to make a service request for utilities or transportation? No problem. Do it online, from work or home, or even on weekends or public holidays – at a time that works best for you. It offers ease of use, convenience, safety, transparency, and comfort. Plus it's speedy, eliminating the need to wait in long lines. As can be seen, digital transformation in government offers multiple benefits across various levels. What's more, it saves trips to the government office, preserving fuel – a welcome change for the environment. It's surely a win-win on all counts!
4. Cost Efficiency
Digital transformation in government will help reduce the need for manpower. It's a vital benefit as a reduced workforce will spell enormous cost savings for government bodies. It'll be a significant outcome as public funds can then be used for crucial missions and causes.
As the overall population ages on a collective basis, the strain on government resources will be tighter as public organizations cater to an elevated volume of demands. Meeting a higher volume of demands in the future won't be feasible unless government IT transformation can help bridge the gap between a heightened demand and supply.
State-of-the-art technologies like smart analytics, an innovative process design, and super-efficient bots can help bring down costs, improve processes, and increase customer satisfaction. By paving the way for public services that can be availed of instantly by people on the go or remotely, wherever they're based, digital transformation in government can lead to a promising future.
Long term cost savings far outweigh the initial costs of developing and deploying IT systems. More importantly, the savings realized will not only be from a financial point of view but also pertaining to organizational productivity.
5. Need for Security
As government organizations shift their focus from office-based to digital fulfillment of public services, it will no doubt provide multi-faceted benefits to everyone. However, it may also raise the risk if the right IT solutions are not leveraged. As transactions are initiated and processed via digital mediums, massive amounts of sensitive personal and financial data will be created, stored, and exchanged over the network. It may pose an increased risk of cyber fraud, identify thefts, and misuse of personal information. Governmental agencies must recruit the right technological solutions to make the government digital transformation so that the integrity of data is not compromised.
Digital transformation establishes a heightened need for strong security protocols as cyber criminals and other ill-intentioned entities try to look for loopholes in government platforms. Any vulnerability is bound to be exploited sooner or later so it's important to harness the perfect IT solution that delivers on all aspects: efficiency, ease of use, reliability, cost-effectiveness, and of course fool-proof security.
6. Multi-Channel Delivery
As government institutions and agencies cater to an enormously vast population, they will also need to suit diverse sets of needs. Multiple platforms will likely be used to access government services, so it's imperative to design systems with multiple delivery channels, be it mobile phones, laptops, kiosks strategically located in public spaces, or even public libraries. So it won't suffice to build web apps alone; these need to be supplemented with high-performing mobile apps and kiosk solutions. But that won't be all either!
A comprehensive one-stop IT solution that syncs the data across all these platforms and generates responses in real-time will be needed to ensure consistency at all times. Additionally, it will enable the public to use any device of their choice at any given time, and also allow them to switch from one device to another whenever they want to.
Ready to Realize your Public Mission with a Modernized Government Legacy?
As the pandemic continues to rage on, the need for digital transformation in government is expected to reach an unprecedented high. In fact, the pandemic may forever change the way we operate and do business, so a permanent shift in focus from analog to digital is essential. Meet the rising demand for digital delivery of public services by leveraging IT solutions that integrate and connect disparate systems with real time responses across complex entities.
You focus on your mission of serving citizens and enhancing lives while we design and deploy digital systems that will completely transform your public service platform, offering ease, transparency, time and cost efficiencies, and convenience for everyone.
Take the first step towards creating a modernized legacy with Software AG Government Solutions' Government IT Transformation!
Want to keep up with all things Software AG Government Solutions?
Share your email address below.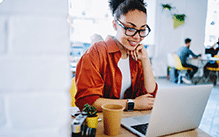 View our upcoming events and on-demand webinars