The Keys to Successful Modernization? Data and Insight
Technology lies at the heart of digital transformation in government, but far too often agencies focus on tools and solutions — the bits and pieces of hardware and software they must integrate into their ecosystem to enhance constituent service delivery.
But true modernization requires so much more than point solutions or legacy, bespoke technologies that only maintain existing technology silos. A holistic approach to modernization requires seamless integration of all your organization's IT assets and bringing people, processes and technology together to accomplish your mission.
To achieve these aims, your organization needs more than just cloud-driven tools and solutions — you need data and insights. Data and insights are the foundation to any successful government modernization strategy, and harnessing these valuable resources requires an effective application rationalization program. Here's why.
Driving Modernization: The Power of Data and Insights
Any meaningful business conversation must start with data and insights.
Data encompasses all the structured and unstructured information your organization collects from its applications and systems, while insights are the result of making data actionable to drive better decision-making within your organization.
Data serves as the roadmap for guiding your agency through transformation and for helping your agency better respond during times of crisis. It builds trust across different departments as they navigate modernization and empowers non-technical and technical users to have an informed discussion about the strategic direction of your organization. Data and insights also can help you answer a range of critical business questions, including:
How long does it take us to deliver a specific service to constituents, such as recertifying an individual for SNAP, TANF, or another social service program?
What is the true cost of running a particular technology and how does it reduce our cost-to-serve?
What business processes does this application(s) actually support?
How did a specific business change affect program outcomes?
Unlocking your organization's data is crucial to implementing an effective modernization strategy. However, many organizations still struggle with how to tap into this existing wealth of information to achieve their strategic objectives. Application rationalization is one of the most effective ways you can access and deploy your organization's data to drive digital transformation.
Application Rationalization: How to Get the Data You Need
Application rationalization typically focuses on IT and budgets. While this process can drive cost savings by reducing licenses and eliminating applications, application rationalization is also invaluable for data discovery.
Software applications have become integral to helping agencies achieve their mission. While these technologies are critical from a tactical and execution standpoint, they also house valuable information about your agency's operations and how constituents interface with various systems and services. Application rationalization can unearth these patterns and trends by identifying the applications in your portfolio, their core capabilities and the business processes they support. All the data gathered during this process can be transformed into insights your agency can use to inform your modernization strategy.
However, for application rationalization to be effective, the data it generates can't be stored in silos or in spreadsheets. It needs to live in a platform or central repository that users across your organization can easily access. As your agency develops its modernization roadmap, you'll need an advanced IT portfolio management solution that helps you gain greater visibility into your application portfolio — and successfully mobilize the data and insights generated through the application rationalization process to accelerate innovation.
Developing a holistic modernization strategy is a time-intensive, collaborative effort that must be driven by your agency's mission and not just tools and technology. Effective modernization must bring people, processes and technology together to foster an innovative culture that transforms your relationship with constituents. Data and insights — derived from a robust application rationalization process — can serve as the cornerstones of this effort and empower your agency to chart a successful path toward modernization.
Beginning to implement your modernization strategy? Read our new e-book, "How to Develop a Modernization Strategy Based on Data & Insight," here.
Want to keep up with all things Software AG Government Solutions?
Share your email address below.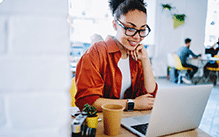 View our upcoming events and on-demand webinars