Advancing IIoT Asset Tracking for Military and Aerospace Manufacturing
Faced with increased pressure to improve operational efficiencies, today's military and aerospace manufacturing operations need to be fully optimized to deliver state-of-the-art products to customers.
This is why asset tracking has never been more important. Thankfully, the right technologies can help to take control of all valuable assets, while also minimizing losses and reducing audit risk – with added future-focused predictive maintenance and analytics.
Software AG Government Solutions recently hosted an in-depth webinar that offered insights into how to boost manufacturing efficiency through IIoT-enabled asset-tracking solutions. Software AG Government Solutions' Cumulocity IoT platform is ideal for accelerating asset tracking and monitoring. The platform also provides real-time insights into device performance and usage, allowing manufacturers to identify issues and opportunities for optimization. Additionally, in typical manufacturing facilities, there are often many disparate systems that are not integrated together or automated. This creates undue manual work around entering the same data into different systems, and often involves the use of spreadsheets.
With a comprehensive solution, it is possible to have a single source for all manufacturing and supply chain data. It can also help to standardize all processes by integrating all data from various application systems and sites, and determining the bottlenecks or variances across all processes. Ultimately, this enhances overall supply chain optimization and resiliency to better deliver quality products to customers on time. This can also include enhancing customer and supplier interactions, as well as the interoperability of applications and systems across an organization's ecosystem.
In terms of use cases, it is possible to perform location tracking for tools, raw materials, parts and fixed products – all in the context of locating an item for an operator or if there is an audit. Expiration dates for calibrated tools that need immediate recalibration can also be tracked and alerted.
From an inventory management perspective, our customers get a complete picture on the parts and replenishment counts, as well as gain a view of the vendor-consigned inventories. Our customers can also perform proximity tracking, whether it be people to people, people to things or things to things. In addition, it is possible to enhance worker safety through hazard avoidance initiatives, such as tracking when there is a "man down" and using distress alarms.
From an operational scenarios perspective, any asset can be tracked from inside of a facility – even if it's a restricted building. It is also possible to track assets as they enter and leave a facility at the entrance gate. There are also capabilities to track assets outside from a mobile vehicle that has the anchor that reads and sends the data into the Cumulocity IoT platform. Our customers can also take videos of the vehicle as it leaves the facility. It's not just about tracking the location of an asset, but also monitoring an asset. For example, the Cumulocity IoT platform can tell you about the temperature, humidity, vibrations and the speed that the asset is traveling.
Software AG Government Solutions has been a pioneer in data integration, and application integration for nearly 25 years, and now with a key focus on API management and API-led integrations. All of Software AG Government Solutions' offerings have been "built for government," and always provide mission-forward capabilities for government, military and aerospace and defense customers.
In addition, all the solutions are highly scalable. Once you implement a solution at a manufacturing facility, it is easy to quickly scale for additional sites and additional use cases. Software AG Government Solutions is continuously innovating its platforms – providing customers with the latest versions that can be maintained in their production environments.
The Cumulocity IoT platform was granted a Defense Health Agency (DHA) Authority to Operate (ATO). This validates how the platform can meet current and emerging needs for IoT data management from any sensor or device across all the U.S. Federal government. This came about from the Department of Defense (DoD) using the solution for contact tracing during the COVID-19 pandemic. It automated the tracking of personnel-to-personnel exposure within defined proximities in controlled DoD environments with a highly secure, cloud-to-edge solution. In addition to enhancing asset tracking for aerospace and defense manufacturing, the Cumulocity IoT platform can be used for biometrics, remote patient monitoring, border security, as well as disaster management and response.
Be sure to watch the full webinar below.
Ready to fully optimize your military, aerospace, and defense manufacturing operations? Please contact us here to get started with a government-validated IIoT asset tracking solution that was "built for government."
Want to keep up with all things Software AG Government Solutions?
Share your email address below.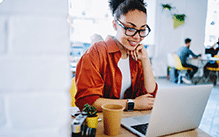 View our upcoming events and on-demand webinars