Implementing Technology Business Management: Why an Enterprise Architecture Approach is Key
The federal government is more focused than ever on driving value and being a better steward of public dollars.
IT transformation is critical to this effort, as new government mandates around technology business management (TBM) push federal agencies to better understand the ROI they're getting for their IT spend.
By 2022, agencies will need to complete their TBM implementation. While several agencies are already laying the groundwork now and proceeding with an incremental approach to this implementation, there's another effective way you can accelerate your IT transformation: adopt an enterprise architecture approach.
Advancing Technology Business Management: The Current Challenges for Federal Agencies
The TBM framework allows government technology leaders to drive value and foster innovation, but federal agencies still face several barriers to effectively implement this framework.
First, the sheer size of federal agencies makes it difficult to accurately account for IT spend. Legacy software applications, distributed IT environments and the traditional way agencies have assessed the value of technology solutions further complicate this process. It's always been a challenge for agencies to link IT costs to current business processes and services, the current initiatives and strategic objectives they support and how these costs align to future modernization goals.
IT and finance teams often don't speak the same language. When finance teams undertake efforts to gain more visibility into IT spend, their output is often difficult for IT teams to understand. The same thing often happens when IT teams lead these efforts. True technology business management requires alignment between finance and IT, line of sight into what costs are aligned to which applications, processes and initiatives, and both cost and application portfolio optimization.
To meet these objectives, your organization first needs to achieve a holistic view of its IT environment. From there, you can apply the TBM framework and gain more visibility into your IT spend. This is why embracing an enterprise architecture approach is so critical.
Combining EA and TBM for Greater IT Visibility
 Enterprise architecture allows many large organizations to better understand their entire IT ecosystem, including business capabilities, dependencies, applications, infrastructure and the connections between different solutions, business processes and services.
EA management typically involves releasing systems and services into the production landscape and mapping these releases to application and services. Applications are then aligned to the products your IT team makes available to stakeholders and to the organization's business capabilities. This then connects back to your organization's overall enterprise strategy.
This entire lifecycle allows agencies to answer many cost questions about their IT spend, but IT costs are sometimes recovered and reflected in more nuanced ways that are difficult for this approach to fully capture. However, applying an enterprise architecture approach to TBM can powerfully tap into the advantages of both these strategies to help your organization achieve its mission.
EA can serve as the foundation for implementing the TBM framework because it provides initial visibility and a baseline for understanding the true cost of a particular project, service or application. You then can apply the TBM taxonomy — which standardizes cost sources, technologies, IT resources, applications and services — to answer more complex business questions, such as:
What is my organization's IT spend on a process or capability, and what are the drivers of that spend?
What are our most expensive applications to run and maintain?
Which applications can we retire?
What will be the potential business and financial impact of a specific modernization initiative?
How is this tool or resource helping us meet our mission — and at what cost?
By combining EA and TBM, your organization can understand the true end-to-end costs of a service or providing a capability. However, combining these approaches takes more than just strategy, it also requires the right tools. A robust EA and IT portfolio management platform can map IT costs to IT elements and give you greater visibility into your enterprise architecture. This platform also fosters more effective collaboration between IT and finance teams and delivers the strategic insights your organization needs to make more informed technology decisions. You also can integrate your ERP and IT financial management systems into the platform, abandoning disparate point solutions that only provide a fragment view of your IT landscape.
Government agencies need to become more agile to achieve their mission. By taking an EA approach to technology business management, you can move from a reactive to a more strategic approach and ensure you reap as much value as possible for your technology spend. Learn more in our eBook, "An EA Approach to TBM", here.
Want to keep up with all things Software AG Government Solutions?
Share your email address below.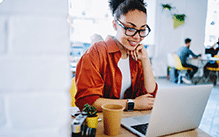 View our upcoming events and on-demand webinars